Well, Day 3 was a mixed bag. Started out pretty blah because it was raining raining raining... a steady drizzle for most of the afternoon. But it was good in the end because the weather was lovely and cool in the evening, albeit so humid you could cut it.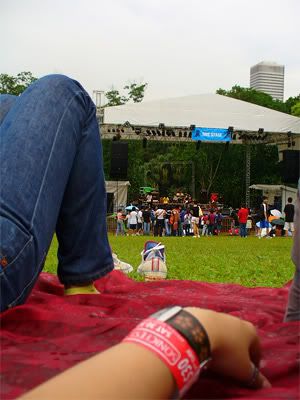 On the grass in front of the main stage, taking a nap in the drizzle (our tops halves under brollies) while So Fire from Indonesia played.

The Sonic Edge set was awesome. (Warning: This post is not chronologically accurate.) No mistakes for the most part. Yay! (Can't say much and I have no photos coz I was on stage singing and one can't really comment or take pics when one is behind the mic...)

J, E, and G² performed at the Village stage as Elon Moreh, and they were very good.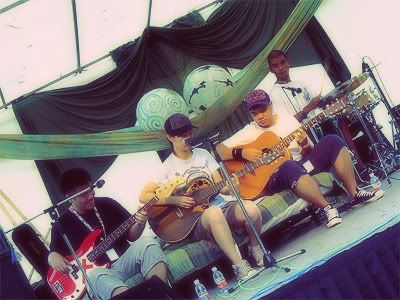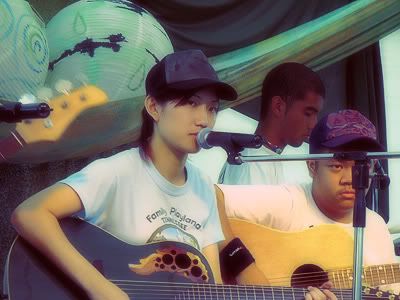 J's phone rang halfway through...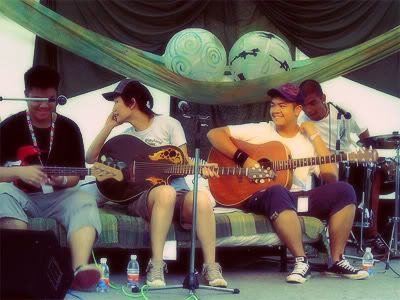 But the beauty of the Village stage is that it's small and cosy and you can basically do whatever you want anyway, so she took the call. Too funny.


There was also the DJ room, where we danced for while until we were sweaty...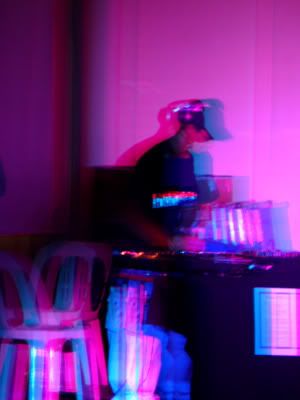 The DJ had this awesome shirt with lights on the front! I want one.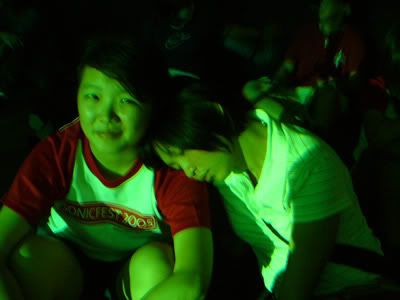 The effects of Trance.

A somewhat related rant:
I have to say that Sporeans have a dancing problem. Not too many of us know how to move our patooties. I mean, even at the main stage when the most engaging bands yell "DANCE!!!" all the kids do is jump up and down for about 30 seconds before stopping out of sheer exhaustion, and standing stock still. It's either jumping up and down or nothing at all. Not even bobbing to the music... even if it's awesome rhythmic music... It's weird. (With that in mind, I quite like it when bands just yell "JUMP! JUMP!" and then there's fun synchronized movement for a while... but it's sad when The Jump is the full extent of one's dancing repertoire.) Constant movement, people! Shake yer patooties! Move yer arms! There are other muscle groups crying out for action! [end rant]

Anyway, so a few of us decided to dance because it was fun and because the poor DJ was lonely. A large portion of crowd remained sitting on the floor, but oh well. Soul Train, baby! Hilarious.

Anyway, after the Sonic Edge set, there was a lull while we waited for Sonicflood to close out the fest.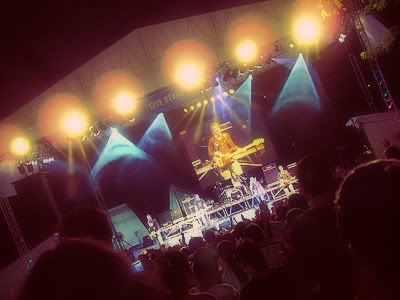 Sonicflood

Their set was pretty good (as expected), although I'm still surprised at the number of cover songs that they do. Their originals aren't terrible, but it just surprised me.


Then we went out for supper (like good Sporean hobbits) and had pratas and curry at this little discovery called The Prata Cafe on Evans Road. Got home sometime in the wee hours of the morning. Wheeee!

I'll miss the Spore!