Went to Port Macquarie to volunteer at the state AOG conference. It was good and basically I got to attend the conference for free (because I was an usher in all the sessions) but it was cold and cloudy and rainy the whole week, so that wasn't very fun since we had the afternoons off and we were on the beach. Grrrr. Got a couple good photos though. Will post soon.
One of the days on the beach, I decided to take my cue from Danielle who was writing a massive love note to her boyfriend in the sand and taking pictures of it, and so I did this...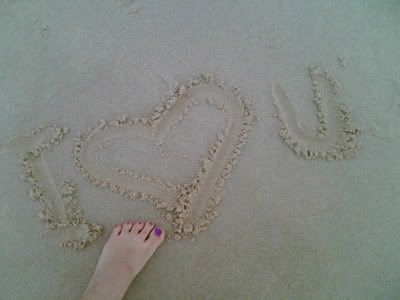 ...and sent it by text message to P, who I had left back in Sydney.
Yes, aren't I cute?
A few minutes later, my phone beeped and I got this back...
(
Collapse
)
Haha! He got 'mad props' from the girls. It was funny.