Well, Day 3 was a mixed bag. Started out pretty blah because it was raining raining raining... a steady drizzle for most of the afternoon. But it was good in the end because the weather was lovely and cool in the evening, albeit so humid you could cut it.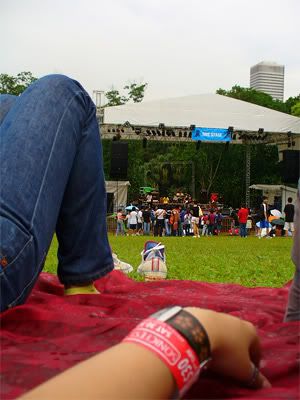 On the grass in front of the main stage, taking a nap in the drizzle (our tops halves under brollies) while So Fire from Indonesia played.
The Sonic Edge set was awesome. (Warning: This post is not chronologically accurate.) No mistakes for the most part. Yay! (Can't say much and I have no photos coz I was on stage singing and one can't really comment or take pics when one is behind the mic...)
(
Collapse
)
Then we went out for supper (like good Sporean hobbits) and had pratas and curry at this little discovery called The Prata Cafe on Evans Road. Got home sometime in the wee hours of the morning. Wheeee!
I'll miss the Spore!