Briefly, for now:
The Los Angeles stuff went well. STILL no wedding photos because people in the bridal party don't usually get to poke their cameras around. So here's what I have to show for L.A.: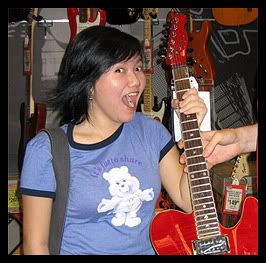 The Guitar Center is cool.
And then there's our first day in New York City. We landed at JFK airport at around 7am today, so we were kinda half-dead since it was still only 4am in LA... but we shook it off and decided to go for a "walk" in Manhattan. Well, in the end it turned into a 6 hour trek from Times Square to Battery Park. That includes a 2 hour detour in Macy's (that place is RIDICULOUS), a few more stops in other shops, lunch at Papaya King (YUM!), and a stop at the World Trade Center site (can't see much, really.) Oh, and a really tall cup of carrot juice. Anyway, 6 hours is a lot of walking. Through the West Village, Soho, Tribeca, lalalaala... Checked out the Empire State but didn't go up since the thing downstairs said that visibility was zero. Cloudy and drizzly day - bad for views, but good for walking. It was gorgeous and interesting and fascinating. Got quite a few good pics. Will post later. But for now, we have this:
(
Collapse
)
Then we took the subway to Chinatown and had yummy Chinese food.
Oh, and I saw a girl pull a Marilyn Monroe by accident at a subway vent on the sidewalk. Her skirt went WHEEEE!!! Poor thing.
Lion King tomorrow!